Multiprotocol I/O module with 4 universal inputs, 4 digital outputs, HOA switches, IP connectivity, and built-in Modbus TCP/IP to Modbus RTU/ASCII gateway. Built-in HVAC and light applications.
Multiprotocol I/O Module in a Compact Size with Built-in HVAC and Light Applications
Powerful I/O module that works as a remote I/O over IP with open protocols: BACnet IP and Modbus TCP/IP. A compact size and ease of installation allow the module to be fitted even into limited space installations. The module is equipped with HVAC and light applications that control the output based on the input measurement.


Simplified Configuration and Commissioning Process
The module allows for seamless configuration over BACnet, Modbus, or dedicated free of charge tool. The ability to be powered from a USB port facilitates local testing and enables a straightforward updating process.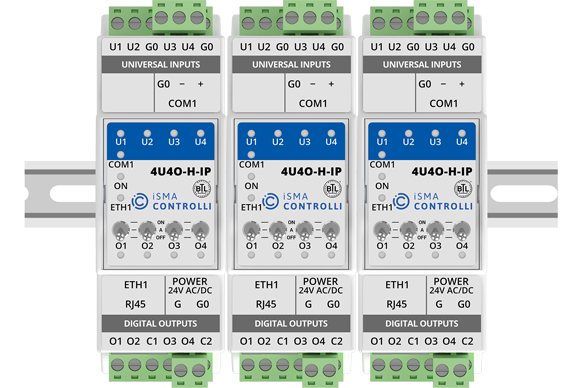 4 Universal Inputs
Support for over 20 types of temperature sensors and voltage, resistance, current, and dry contact measurements on each universal input.
4 Digital Outputs
Digital outputs equipped with normally open 3 A relays allow for a direct control without additional relays.
Manual Override Switches
Each output can be manually overridden using a dedicated hand operating switch.  
Built-in HVAC and Light Applications
Light, cooling, and heating configurable algorithms make the module applicable as a standalone controller.
Modbus TCP/IP to Modbus RTU/ASCII Gateway
Built-in Modbus gateway on the COM1 port enables integration of up to 128 Modbus slave devices to the IP layer.
Quality and Reliability Confirmed by Certificates
iSMA CONTROLLI is a long-standing member of the BACnet community. The experience in developing high quality products and the BTL (BACnet Test Laboratory) certification confirm the excellent performance of communication using the BACnet protocol. 
Reliability of operation is confirmed by UL testing, certified by Underwriters Laboratories.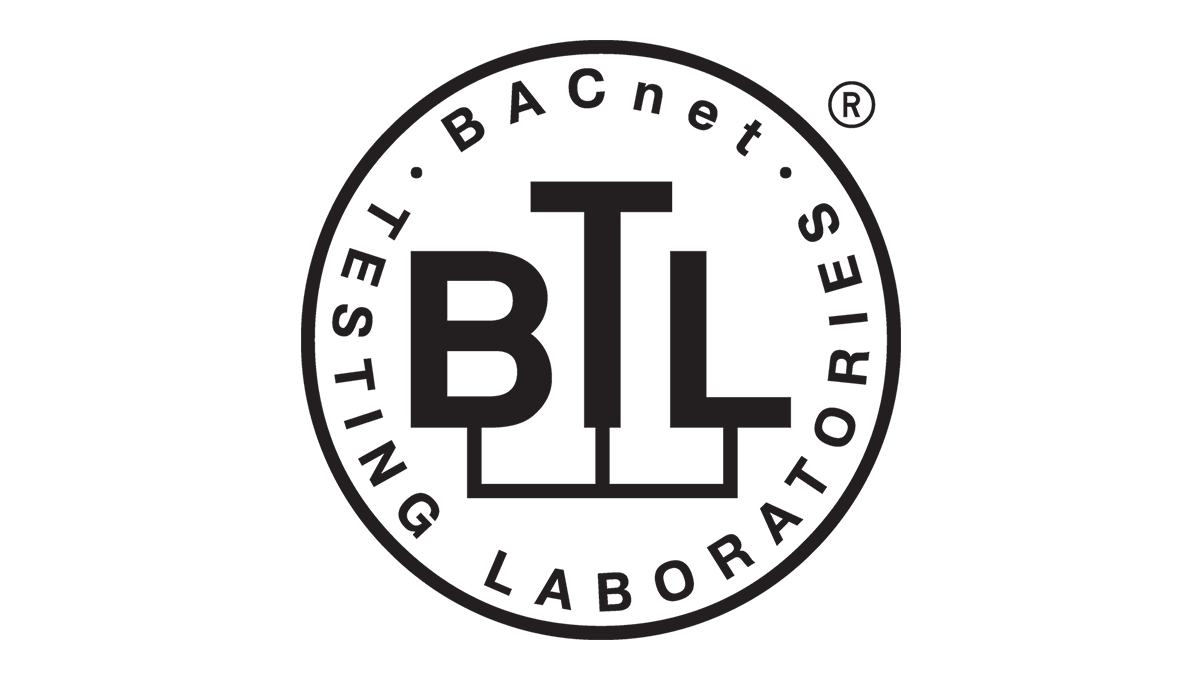 ---
Technical Specification
Inputs
4 Universal Inputs (UI)
Temperature input in Celcius degrees: 10K3A1, 10K4A1, Carel 10K, 20K6A1, 2.2K3A1, 3K3A1, 30K6A1, SIE1, TAC1, SAT1, Pt1000, Ni1000 0C, Ni 1000 20C, Ni1000 LG 2. 
Temperature input in Fahrenheit degrees: 10K Type2, 10K type3, 20K, 3K, PT 1000, Ni 1000 32F, Ni 1000 70F
Resistive input 0-1000 kΩ
Voltage input 0-10V
Dry contact input
Outputs
4 Digital Outputs (DO)
NO relay output 
Resistive load max. 3 A @ 230 V AC / 30 V DC
Inductive load max. 75 VA @ 230 V AC / 30 W @ 30 V DC
Communication
BACnet IP
Modbus TCP/IP
Modbus TCP/IP to Modbus RTU/ASCII gateway 
mini USB type B interface
Built-in status LED indicators
Free software iSMA Configurator
Dedicated Niagara Framework modules
Power Supply
24 V DC ± 20%
24 V AC ± 20%
More Information

| | |
| --- | --- |
| Outputs type | Digital |
| Inputs type | Universal |
| Communication protocol | BACnet IP, Modbus TCP/IP, Modbus TCP/IP to Modbus RTU/ASCII Gateway |
| Power supply | 24 V AC, 24 V DC |
| Controller type | Configurable |
| IP | 40 |
| Universal inputs | 4 |
| Digital outputs | 4 |